Messages to Teachers and Parents
This page provides a concise chronological overview of all messages from Dynaread to her users.
BUG: OnBoarding (User Manual) Videos do not play Full Screen
09 Aug 2018


Our OnBoarding on-screen User Manual is experiencing an issue with the Instruction Videos for students. They play/work, but do not allow Full Screen mode, making watching them difficult. We're working on the fix, which proved a bit more evasive than we hoped. Dynaread is compatible with all major browsers, on all major devices (PC/MAC, Smartphones, Tablets), and we need to make sure the fix is 100% for all delivery modes. We're grateful for your patience.
DYNAREAD (SDCA) Dyslexia Test Released
01 June 2016


We are proud to inform you we have released the Gold Standard of online Dyslexia Testing. Using the years of experience we build up with our first PMP Dyslexia Test, we have now released our SDCA Dyslexia Test: The Standardized Diagnostic Comparative Analysis of Dyslexia. The test is fully responsive, allowing usage on mobile devices. See it here: (SDCA) Dyslexia Test and read more on the background here: About our SDCA) Dyslexia Test.
Make sure to tell your friends: Let's not leave a single struggling reader behind.
Brand New DYNAREAD public web site released
01 June 2016
We released our brand new public web site, equipped with up-to-date styling and fully responsive behavior (allowing comfortable access on mobile devices).
DYNAREAD 7.2 Released - OnBoarding, plus OnScreen User Manual
14 Dec 2015


Since our release of Dynaread 7.1 we have been working on the development of our new User Manual. This new user manual is integrated into our Dynaread Program. We make extensive use of so-called Walk Me Through on-screen instructions. Whether you are a brand-new user of Dynaread or a new subscriber, we strongly recommend taking the little time it takes to click on those orange buttons and follow the instructions. We offer both Teacher Instructions and Student Instructions. Further, this new feature offers so-called OnBoarding. when clicking on the orange button, look for the Tasks. You will see your instructions listed there. When you have completed them, the application will strike them through for you.
Don't see the orange button? Please use a PC or MAC computer, or another mobile device.:Some mobile devices do not display the Walk Me Through button. Any questions? Please do contact us.
DYNAREAD 7.1 Released - Now fully compatible with mobile devices
26 Oct 2015


We are grateful to report that Dynaread v7.1 is now released. Dynaread is now fully compatible with all devices: All major browsers (current versions) on PC and MAC, plus the main browsers on both Android and iOS mobile devices (tablets and smartphones). This release required a complete recoding of our sound technologies, and we give a special Thumbs Up to our IT team who worked very hard to make this happen (not a small endeavor). We hope that the freedom to use Dynaread on mobile devices will further your ability to help your child succeed in reading.
Fluency Timer now also offered inside the Print Module
06 Aug 2015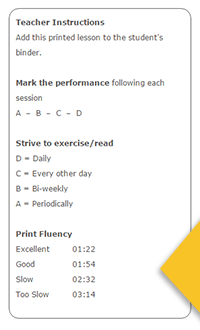 On request of our users we have added the Fluency Time reference table to the Printout generated by the Print module. This allows you to time fluency performance using e.g. your smartphone when working with the print outs. Do remember that fluency times only offer an indication. The cherry on the pie in reading is Comprehension. Use the timer with discretion.

Some children get stressed by time pressure; others are stimulated by it. If your child has reached the Print module and is working on improving speeds, then comprehension is likely already there. But reading speed does play into the fluent reading experience and does improve overall reading performance. There is interesting scientific research on this. However: Walk the balance. Encourage speed improvements, but avoid anxieties over timing, and avoid stimulating your child to read less accurately for the sake of trying to race up and improve time.
Video - The value of Vision and Practice in Reading Remediation
13 July 2015
We released a new short video in which Hans Dekkers, founder of Dynaread, addresses your child directly and talks about the value of developing vision and establishing solid practice routines in reading remediation. The video was self-recorded by Hans high up on a ridge in the Canadian Rocky Mountains. We hope you will let your child watch this short video. Let us know what you think of it.
Added Teacher Printout in Reader Module; Updated Print Module
10 April 2015
We updated the Reader Module and the Print Module.
The Reader Module now offers a Teacher Printout feature of the lesson text. Layout is for teacher-use only (not for students), and it printable page includes some tips/suggestions on working with your student in the process of perfecting fluency and reaching comprehension.
The Reader Module now features a small orange button (see image below) which, when clicked, will explain more.
The Print Module now only prints the text of this active lesson, and no longer all other texts in the same topic Group. Parents requested this update, as it makes better sense. We used the opportunity to improve the right column lay-out and the instructions on marking the readers D, C, B, or A.
Dynaread Version 6.18.2

Redesigned Working Memory Module
06 March 2015
We have released a redesign of our Working Memory exercise area. In the past we offered the Digit Span exercise. As of today, we have added a Pair Cards exercise. The Pair Cards exercise uses the alphabet with letter-matching images, and invites the student to match as many pairs as possible within the alloted time.
The student is free to choose between training with the Digit Span or with the Pairs Cards module. Both secure the objective of raising (increasing) working memory performance, which in turns widens the time-window for slow readers to be able to attain comprehension.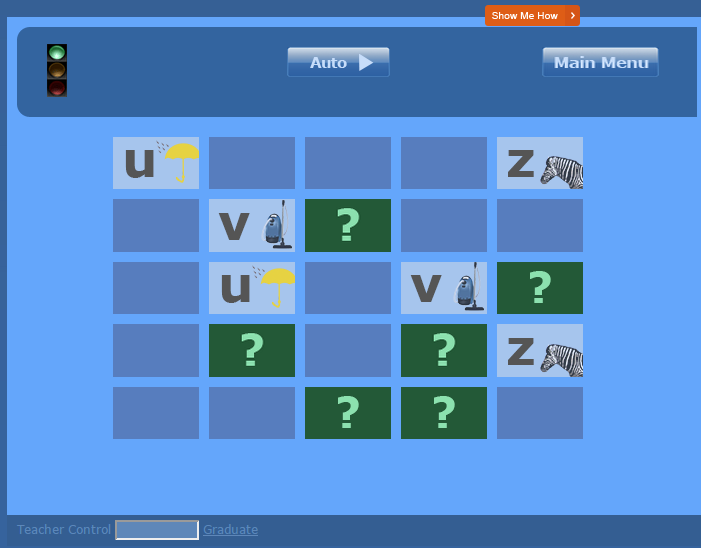 Dynaread Version 6.17.0
Live Chat feature added to our services
09 January 2015



We added Live Chat services to both our Public Website and our Dynaread Dyslexia Remediation program. The chat button sits in the bottom right corner.
Please, do remember Dynaread strives to offer affordable dyslexia remediation, and for that reason we keep overhead costs down as much as possible. Chat is available during our office hours (9AM to 5:30PM MST Office Days), and we are not always online during that time (due to meetings or focused other responsibilities). When we're not available for chat, simply enter your message and we will follow up as soon as practically possible.
We trust this new service addition furthers our ability to help children succeed.
- Dynaread Version 6.12.0
ATTENTION: Asia/Australia/MiddleEast/Africa Users
26 December 2014
We have launched our Asia server network. This means that your Dynaread access no longer has to travel around the world, but will be served much faster to you by our Asia network. You do not need to make any changes. Just know that if you would happen to travel ourside Asia/Australia/MiddleEast/Africa, you should not login as a student, as you are working on another student database. If you move to another global region for a longer time, simply contact us, and we will move your student over.
We're dedicated to helping children succeed. This new service addition will make the Dynaread web site experience smoother and faster for our Asia/Australia/MiddleEast/Africa students.

School/District Admin Accounts
19 September 2014
To better serve Schools and Districts/Organizations, we released our brand new Dynaread Student Administration area. This tool allows you to administer and monitor Learn-to-Read remediation. Your Dynaread Administration area comes in three levels.
District supervisor Admin
School supervisor Admin
Teacher Admin
Each of these offer different functionalities. To highlight the most important ones:
Teachers

can add new students and produce on-the-fly custom Report Cards.

School supervisors

can add new teachers and monitor teacher and student activity.

District supervisors

can add new schools and retain school and student overview.
We also carefully redesigned progress measures to better reflect school realities.
HOW TO GET STARTED
Click the LOGIN button in the right top.
Select your role and enter your password.
Our new WalkMe onscreen instructions will brief you in two minutes on all features (click the orange Walk Me Through button).
*** Don't have a password yet? Email us at service@dynaread.com and we'll set it up for you (Schools and Organizations only).
---
Improved Check Module, Reader Module, and Attention Focus Tracker
31 July 2014
We released Dynaread v5.12.0 with an improved Check Module, modified Reader graduation, and closing a little trick some students discovered to fool the attention focus tracker.
More details and explanations? Please see directly below this screenshot.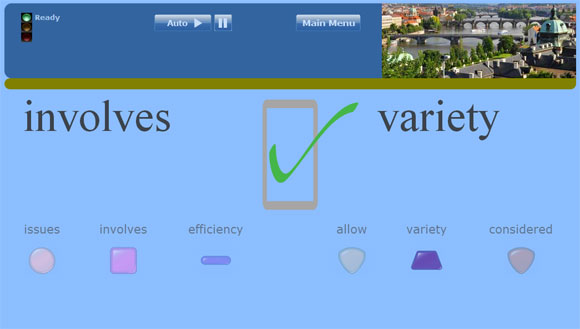 CHECK MODULE now offers the words in pairs sorted on word length. This means the student will no longer have the odd giveaway, where e.g. TREE was paired with HONEYBEE. Now a word like TREE is paired with a word from the lesson with approximately a similar character length.
REVIEWS, WORDS, and PHONICS MODULES no longer welcome the loophole to simply keep the spacebar pressed. When the spacebar is kept depressed, the attention focus tracker will count down and cause the student to be invited to redo the exercise.
READER MODULE graduation is now triggered at 15 seconds after the opening of the module. In the past, it was required to activate the stopwatch. This is no longer a requirement. We encountered requests to be able to graduate without using the stopwatch. We considered the pros and cons and considered it a good change.
---
New improved Write Module
3 July 2014 - We released Dynaread v5.9.0 today. It contains an improved Write module. You can now select how many sentences you want your student to copy. It also comes with a Reading Ruler, making it easy for your student to keep track of the sentence being copied.
Look for the orange colored Show Me How button in the right top of the Write Module (see image below). Clicking on it will walk you through the features.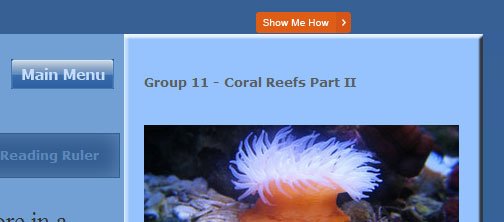 ---
Snowflake Updated/Improved
2 Apr. 2014 - We have rebuild the artificial intelligence underneath Reviews, Words, and Phonics Modules.
What does this mean for your student? Encourage your student to properly focus and pay attention to the active words on the screen, and to react to the snowflake with a single mouse-click inside the light-blue word area. When the mouse is placed outside this area, a white rectangle will warn the student. A response by keyboard space-bar instead of a mouse click is also permitted. Only one single respond immediately following the snowflake appearance. For more information on how to use respond to the snowflake focus tracker, please read our User Manual.
---
Practice individual words from INSIDE the Reader module
7 Mar. 2014 - Instantly practice individual words: At times you may feel the need to have your student quickly refresh or practice an individual word. This is now possible! Click and Learn how inside the update User Manual. It's easy!.
---
Improved Write module
27 Feb. 2014 - We changed the way the Write module selects sentences. Your student can now copy the actual lesson's Reader sentence by sentence. In the early stages of working with Dynaread, especially if your child has significant reading struggles, we do not encourage asking them to copy more than one or two sentences. But as their reading improves, they will now be able to copy sequential sentences from the Reader. Simply click the button below the sentence to bring up the next sentence.
---
Snowflake response tools: Mouse, plus a counter
21 Jan. 2014 - Since producing our instructional videos, we modified the preferred way of responding to the snowflake. Using a mouse click is now the recommended response to the snowflake. The spacebar response however remains a fully operational alternative response to the snowflake. Students may choose what works best for them: Mouse or spacebar. The mouse needs to remain positioned in the large word area. Moving the mouse outside of this area, will result in a white rectangle showing up. Simply move the mouse inside this white rectangle, and you are ready to click/respond to the snowflake.
You can monitor whether or not the child is effectively responding to the snowflakes. We display in the right bottom corner the count of missed snowflakes. The counter counts down: when reaching 0 the exercise will stop and ask the child to redo the exercise again. Below, you see a screenshot of this counter.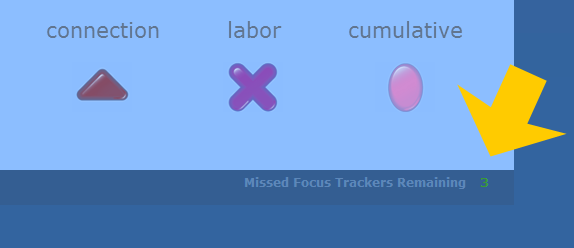 ---
New Student Progress Chart
20 Jan. 2014 - We released a redesigned and upgraded Student Progress Monitor area. When clicking this button

in the Main Menu's right side navigation area, the student or supervisor now arrives at a new graph. We changed the logic to better reflect average progress. You can read an explanation of the new graph here: User Manual > Student Progress Chart. This new chart also prints properly.
---
Two-minute pause removed from Words module
20 Jan. 2014 - More recent scientific research justified the removal of our forced two minute break between consecutive Words Module rounds. This pause served the function of memory consolidation. This need has now been identified as adequately met by the existing pauses between words inside the module. The trade-of between uninterrupted program administration versus memory performance needs has thus tilted in favor of removal of this two minute break.
---
Active Teacher Controls: You can now override Digit Span, Reviews, and Words Modules
5 Jan. 2014 - We have added a feature which allows you to override the Digit Span, Reviews, and Words Modules. Sometimes sessions get interrupted, or there may be other reasons which would make it logical to simply pass over a Module. You can now do this. For the sake of your student, do exercise restraint in using this feature. Read here how to use it: User Manual > Digit Span (the override function works the same in Digit Span, Reviews, and Words modules.
---
Added the ability to hide the Reader stopwatch
5 Jan. 2014 - We added the ability to hide the stopwatch in the Reader Module. Some children love the stopwatch, where others get a bit nervous of it. Remember: The stopwatch is only there at all to give some reference on fluency. The most important thing to establish is whether the child is reaching comprehension. Read here how to hide the stopwatch: User Manual > Reader Module.
---
Added a Reading ruler
23 Dec. 2013 - Some children find it difficult to track words in sentences. We have added a draggable reading ruler to our Reader module. Read here how to use the ruler: User Manual > Reader and Print Modulese.
---
Added Print-out reread instructions
15 Dec. 2013 - On request, we added a small note area in the right top of our Print module print outs of lesson readers. This note area allows you to mark printed readers A through D, depending on demonstrated reading performance. Read here how to use this new note area: User Manual > Reader and Print Modules.
---
Upgraded User Manual
5 Jan. 2014 - We have upgraded our User Manual. To access the new User Manual, click here: User Manual.
End of messages.